Accommodation Solutions
Whether it's a park cabin or an entire village, find a solution that works for you.

Modular WA are experts in providing cost effective, high quality accommodation solutions. Since our inception we've been delivering modular buildings for housing estates, lifestyle and eco villages, tourist parks, and private residential clients across regional and rural Western Australia. Our high quality modular buildings are rapidly constructed under strict supervision in our manufacturing facility before being transported to their destination which ensures minimal disruption to your site.

Modular WA have been the supplier of choice for high quality, affordable accommodation solutions for tourist parks, lifestyle villages and local governments across the state.
Short Stay Designs

Our range of short stay units were designed to be compact and comfortable while retaining a small footprint.

Need something custom?

Any of our existing plans can be tailored to suit your needs. Alternatively, we'd be happy to custom design an accommodation solution perfect for your site, budget and expectations. Contact us today to start your project.
Modular WA are proud suppliers for:
EXAMPLES OF PREVIOUS PROJECTS:
JURIEN BAY VILLAGE
| | |
| --- | --- |
| Client | Acacia Living Group |
| Project | Jurien Bay Village |
| Location | Jurien Bay, Western Australia |
| Contract Period | September 2016 – Ongoing |

Overview
Jurien Bay Village offers resort style living with superb facilities for over 50's. Assisted by funding from Royalties for Regions, the village services the growing aged population in the regional community.
Scope of Works
Design, construct and install full turnkey lifestyle units and respite centre to Jurien Bay Village. Includes transport, cranage and site install of all units as well as custom design consultation and sales support.
Features
The village offers six different two and three bedroom designs showcasing contemporary interiors. All designs intend to accommodate the modern, coastal lifestyle whilst being fitted with accessible solutions where required to ensure maximum security and comfort.
Solutions
Constructing homes for an estate calls for precision planning due to the restrictions faced when installing modules onto tightly fit blocks. Modular WA works extensively with our expert transport and logistics specialists so that installations are carried out ensuring maximum cost efficiency and minimal disruption to the site. Adhering to our client's strict timeline requirements, our homes are rapidly built and transported to site in just 12 weeks. This demonstrates that Modular WA has the resources and expertise to deliver a high quality product, on time and within budget.
"Our board and senior management team have a very high professional regard for the Modular WA team and their modular homes."
– Kevin Davidson, Managing Director and CEO
Acacia Living Group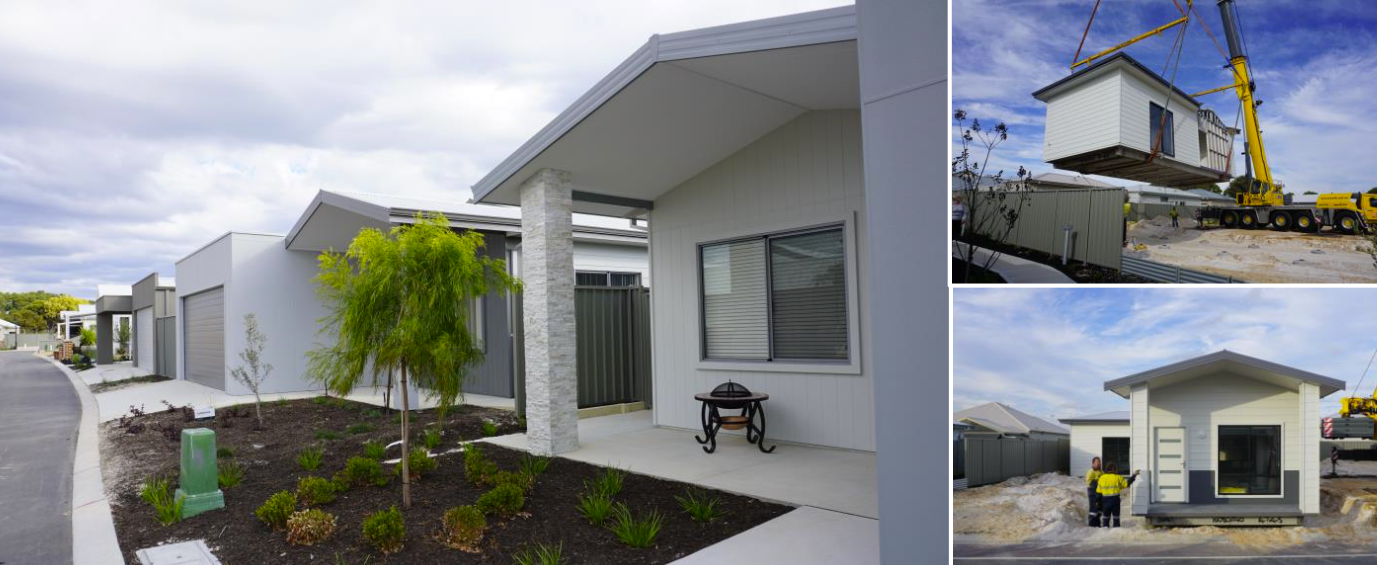 SHIRE OF QUAIRADING - SHORT STAY UNITS
| | |
| --- | --- |
| Client | Shire of Quairading |
| Project | Short Stay Units – Quairading Caravan Park |
| Location | Quairading, Western Australia |
| Contract Period | May 2019 – August 2019 |

Overview
Due to a shortage of short-term accommodation in the town and region and as part of the second phase of the redevelopment of the Quaraiding Caravan and Camping Park, the Shire called for tenders for three short stay accommodation units. The tender was awarded to Modular WA in May 2019.
Scope of Works
Design, Construction, Transport, Craning and Installation of Three Short Stay Accommodation Units.
Features
Compact yet functional, these short stay units feature two bedrooms and a bathroom with a combined main living/kitchen area that opens onto a tiled verandah. One of the units was designed to be universally accessible and comply with AS 1428.
Solutions
Modular WA provided an economical solution to the Shire of Quairading's accommodation shortage without compromising on quality – delivering three attractive and functional units to the client on schedule and within budget. The installation of units by crane was completed without a hitch. Our expert installation team then completed the installation process by connecting the buildings to services and achieving practical completion just two days after delivery. Remedial works and final handover to the client occurred only 1 week after the buildings were delivered to site, ensuring minimal disruption to the caravan park's operations.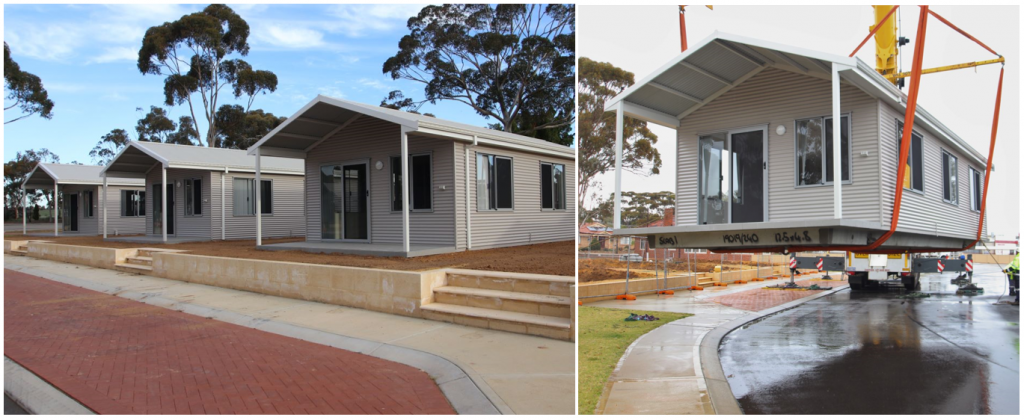 SHIRE OF WILUNA - STAFF HOUSING PROJECT
| | |
| --- | --- |
| Client | Shire of Wiluna |
| Project | 5 x Homes – Staff Housing Project |
| Location | Wiluna, Western Australia |
| Contract Period | January 2018 – July 2018 |
Overview:
In 2018, Modular WA was successfully awarded the tender for the supply and installation of five staff houses for the Shire of Wiluna. The township of Wiluna is located in the North-Eastern Goldfields of Western Australia, approximately 800 kilometres from Perth. The staff housing will be used by the Shire of Wiluna to accommodate a number of permanent employees in housing that is specifically designed for the harsh environment in this remote region of Western Australia.
Scope of Works:
The project included the custom design, construction, transportation and site installation of the 5 homes. Work on site in Wiluna included earthworks, service connections, concrete paths and driveways, site built carports, fencing and landscaping.
Features:
The 3 bedroom 2 bathroom homes showcase modern interiors and functional spaces. The home design and construction used materials and fixtures that will help ensure they are easy to maintain. This included the selection of external wall and roof cladding materials and colours that suit the harsh environment of the North-Eastern Goldfields.  The main bathroom of each home includes design features to improve access and external doors and windows were fitted with security screens to provide maximum security and comfort.
Solutions:
The Modular WA contracts and design and drafting teams worked closely with the Shire of Wiluna to ensure the homes met the client's design brief and expectations. To meet the clients strict timeframe requirements all 5 homes were built and transported to site within 12 weeks. Project management on site in Wiluna was critical to the overall success of the project and Modular WA engaged the services of an experienced and well equipped local contractor to ensure the onsite installation process was completed on time and to a very high standard of workmanship.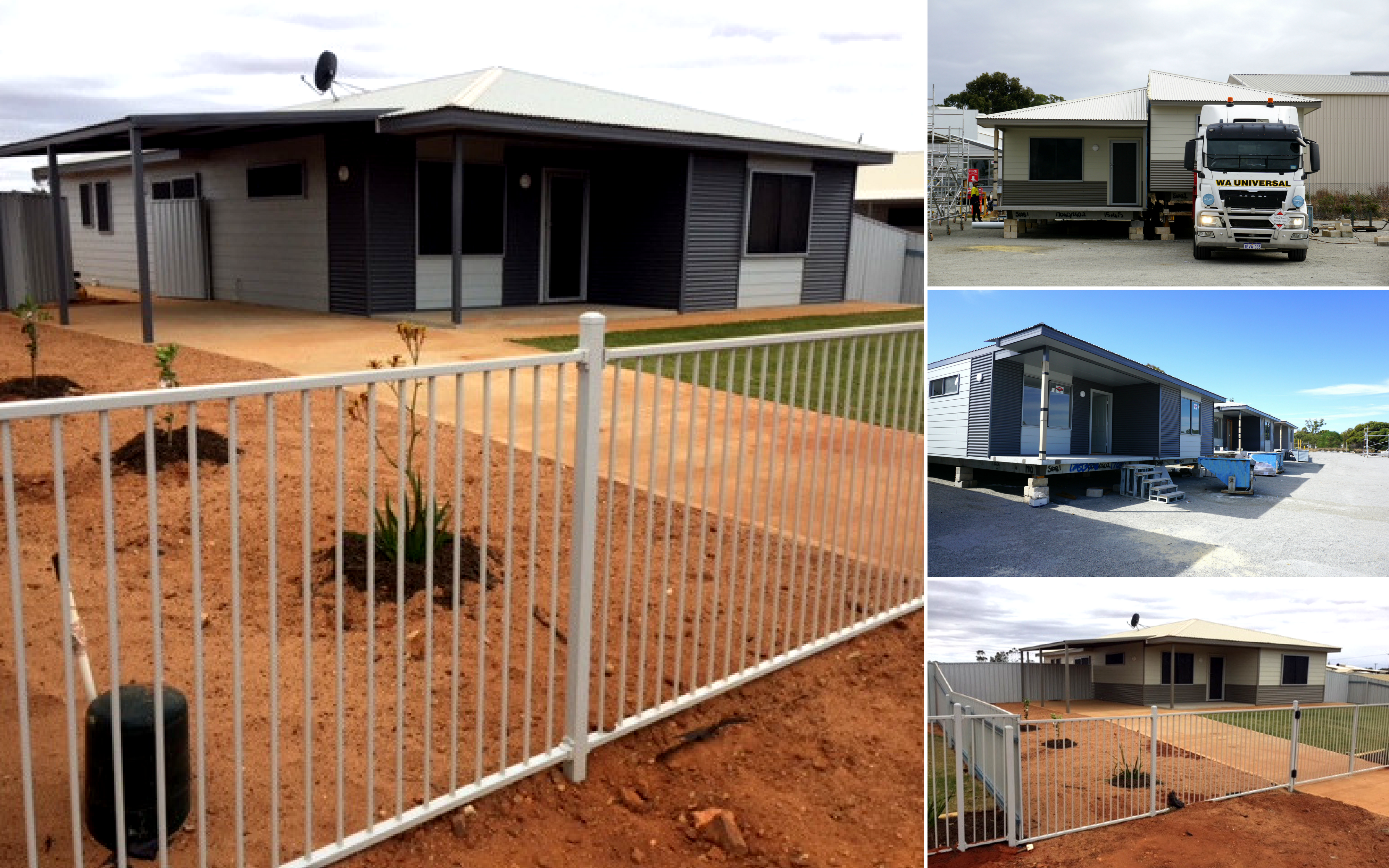 CITY OF BUSSELTON - TOURIST PARK CABINS
| | |
| --- | --- |
| Client | City of Busselton |
| Project | 2 x Holiday Park Cabins |
| Location | Busselton, Western Australia |
| Contract Period | April 2018 – January 2019 |
Overview:
The City of Busselton is located just over 200km or two hours south of Perth in Western Australia's South West region.  In 2018, Modular WA was successfully awarded the tender for the supply and installation of two holiday cabins for the Busselton Jetty Tourist Park to support the region's growing demand for tourist accommodation.
Scope of Works:
The project included the design, construction, transportation and site installation of one park cabin, with a second cabin constructed and transported to a storage for installation at a later date.
Features:
The holiday park cabins featured two bedrooms with built in robes, a bathroom with a generous vanity and open plan living/dining/kitchen area that extends out onto the front verandah. All contained within 70m2, the building remains functional and welcoming while making smart use of space.
Solutions:
As the cabins were additions to an established tourist park, the Modular WA contracts and drafting team designed the buildings to seamlessly integrate with the pre-existing buildings. Situated on a difficult to navigate site, the Modular WA installation team demonstrated their site management expertise, allowing a smooth and successful install with minimal removal of the client's peppermint trees. Overall the cabins were completed to a very high standard of workmanship that exceeded the client's expectations.