Modular Granny Flats Perth
---
We deliver projects on time, on budget and to the very highest level of quality.
View our range
A range of home designs inspired by WA's landscape and lifestyle.
View our range
Our mantra is simple; To build genuinely better modern & affordable modular homes.
Talk to us.
---
Get all the answers and find out how easy it is to get started, talk to the team today.
sales@modularwa.com.au
---
Are You Thinking About Buying a Modular Home or Office in Perth? Finding a Structurally Sound Transportable Granny Flat For Sale Is Possible with Modular WA.
Have you ever heard that myth about how modular homes are not structurally sound? One of the most commonly repeated criticisms of modular or transportable homes is that they simply can't stand the test of time the way traditional homes can. If you are thinking about buying a modular home or transportable office in Perth, though, know that quality and structural integrity are absolutely possible to find.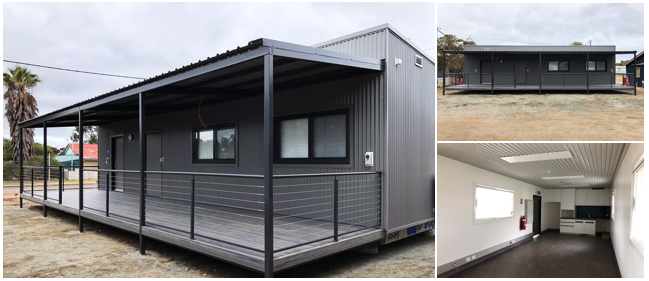 Modular WA and Our 10-Year Structural Guarantee
There is nothing inherent about modular homes or offices that suggests they need to be structurally weak or flimsy. When built with the right materials, a transportable granny flat in Perth should be able to last for just as long as a well-built house. The key is finding a company who you can trust to deliver quality construction without cutting any corners.
At Modular WA, it has always been our goal to provide the kind of structural integrity that is missing from lower quality transportable homes in Perth. Rather than just giving our customers platitudes about how we 'use the best materials' and 'ensure quality construction,' though, we decided to put our money where our mouth was.
The result is our ten-year structural guarantee, one of the key points of difference that sets Modular WA apart from other comparable businesses in the Perth area. We have made strength, stability, and structural reliability so central to the design of our modular granny flats that we feel confident guaranteeing that you won't experience any structural problems for at least the first ten years. Most builders of traditional homes or office buildings will not provide a policy that is even close to this one. We do it because we think the quality of our work merits it.
Part of the reason we can provide this kind of guarantee on the transportable homes and modular offices we sell in Perth is that we really
do
only use the best materials. From structural components to fixtures to appliances, we only use brands that we'd want in our own homes. Some of the premium brands we use in our properties include COLORBOND, Alder Tapware, Fisher & Paykel, BGC, Corinthian, and Gainsborough.
Another factor is that we can build everything in our offsite manufacturing facility, in a controlled environment. Free from the unpredictable nature of unreliable trades coming to your site, we can ensure a higher quality product on a more predictable timeline.
Learn More about Our Modular Granny Flats For Sale in Perth Today
Whether you are looking for an affordable housing option or a short notice office location for your business, Modular WA can help. Give us a call today to learn more about our modular housing or office options in Perth, or to find out these specific details of our ten-year structural guarantee. We would love the opportunity to chat about your project and start laying out design plans.