City of Wanneroo - Emergency Services Building
| | |
| --- | --- |
| Client | City of Wanneroo |
| Project | Emergency Services Building |
| Location | Two Rocks, Western Australia |
| Contract Period | April 2017 – August 2017 |

Overview
Being one of the fastest growing local governments in Australia, the City of Wanneroo welcomes around 8,000+ new residents each year. As part of the multi-million dollar Yanchep-Two Rocks infrastructure upgrades, the City of Wanneroo called upon tenders for a new emergency services building which was then awarded to Modular WA.
Scope of Works
Design, construct and install a new emergency services building for the Two Rocks Fire Station.
Features
Double sliding doors open into an expansive meeting room, providing a much needed training space for the Two Rocks Emergency Services team. As well as a kitchenette, the building was fitted out with a universal access toilet and male & female change room facilities.
Solutions
Modular WA provided the client with an effective solution to their requirements for an accessible building. The finished floor level was kept as low as possible so that entry points were wheelchair accessible, while the separate universal access toilet was fitted out with grab rails and amenities as per AS.1429. The modules were constructed off site at our manufacturing facilities before being transported to site. With a total construction time of 10 weeks in the yard and 2 weeks installation onsite, Modular WA delivered an excellent, rapidly-built product whilst ensuring site disruption was kept to a minimum.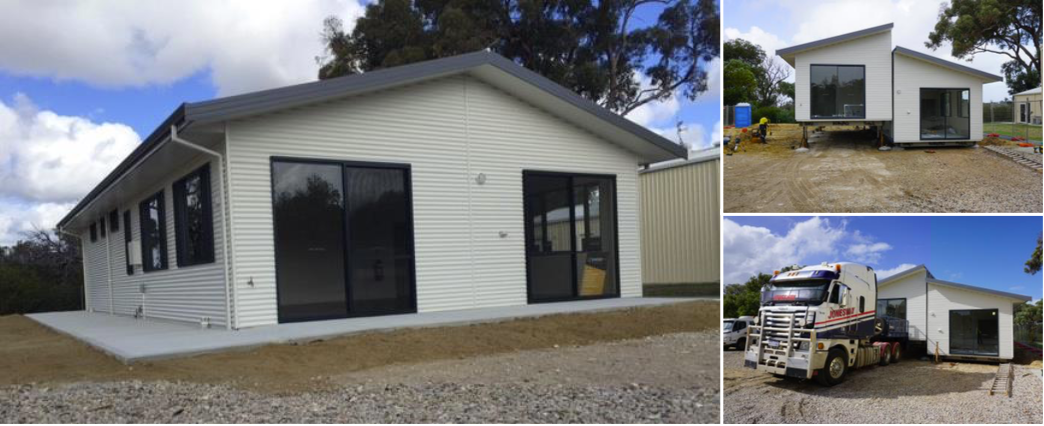 Jurien Bay Village
| | |
| --- | --- |
| Client | RSL Care WA |
| Project | Jurien Bay Village |
| Location | Jurien Bay, Western Australia |
| Contract Period | September 2016 – Ongoing |

Overview
Jurien Bay Village offers resort style living with superb facilities for over 50's. Assisted by funding from Royalties for Regions, the village services the growing aged population in the regional community.
Scope of Works
Design, construct and install full turnkey lifestyle units and respite centre to Jurien Bay Village. Includes transport, cranage and site install of all units as well as custom design consultation and sales support.
Features
The village offers six different two and three bedroom designs showcasing contemporary interiors. All designs intend to accommodate the modern, coastal lifestyle whilst being fitted with accessible solutions where required to ensure maximum security and comfort.
Solutions
Constructing homes for an estate calls for precision planning due to the restrictions faced when installing modules onto tightly fit blocks. Modular WA works extensively with our expert transport and logistics specialists so that installations are carried out ensuring maximum cost efficiency and minimal disruption to the site. Adhering to our client's strict timeline requirements, our homes are rapidly built and transported to site in just 12 weeks. This demonstrates that Modular WA has the resources and expertise to deliver a high quality product, on time and within budget.
"Our board and senior management team have a very high professional regard for the Modular WA team and their modular homes."
– Kevin Davidson, Managing Director and CEO
RSL Care WA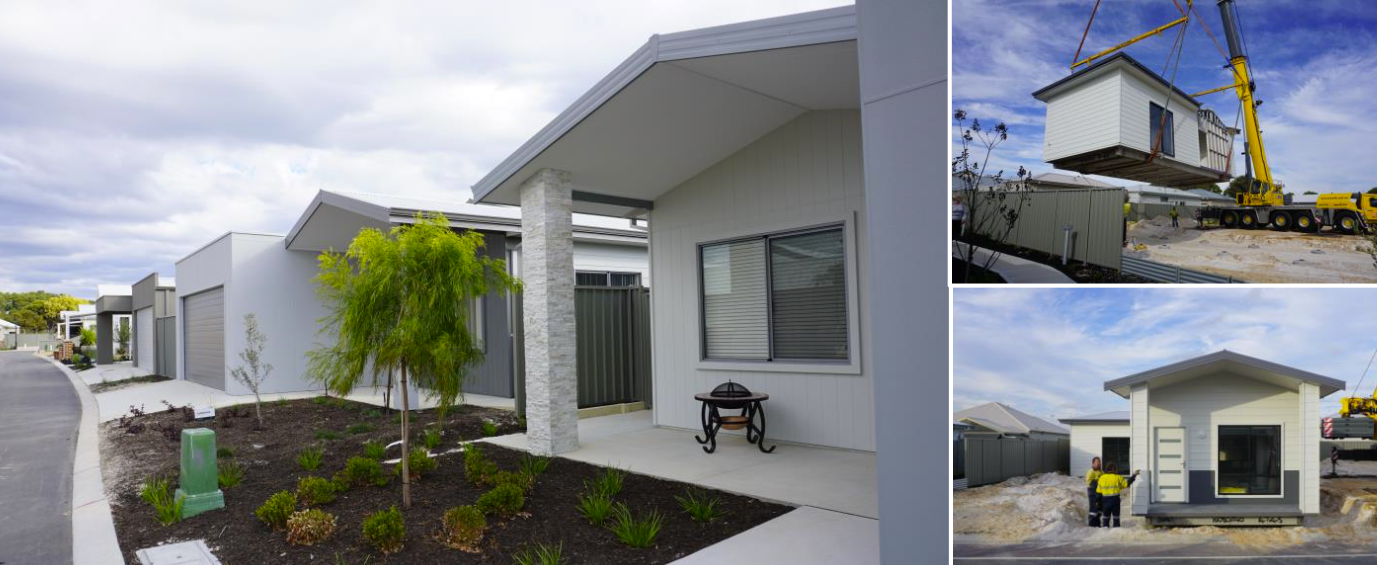 Shire of Wiluna - Staff Housing Project
| | |
| --- | --- |
| Client | Shire of Wiluna |
| Project | 5 x Homes – Staff Housing Project |
| Location | Wiluna, Western Australia |
| Contract Period | January 2018 – July 2018 |
Overview:
In 2018, Modular WA was successfully awarded the tender for the supply and installation of five staff houses for the Shire of Wiluna. The township of Wiluna is located in the North-Eastern Goldfields of Western Australia, approximately 800 kilometres from Perth. The staff housing will be used by the Shire of Wiluna to accommodate a number of permanent employees in housing that is specifically designed for the harsh environment in this remote region of Western Australia.
Scope of Works:
The project included the custom design, construction, transportation and site installation of the 5 homes. Work on site in Wiluna included earthworks, service connections, concrete paths and driveways, site built carports, fencing and landscaping.
Features:
The 3 bedroom 2 bathroom homes showcase modern interiors and functional spaces. The home design and construction used materials and fixtures that will help ensure they are easy to maintain. This included the selection of external wall and roof cladding materials and colours that suit the harsh environment of the North-Eastern Goldfields.  The main bathroom of each home includes design features to improve access and external doors and windows were fitted with security screens to provide maximum security and comfort.
Solutions:
The Modular WA contracts and design and drafting teams worked closely with the Shire of Wiluna to ensure the homes met the client's design brief and expectations. To meet the clients strict timeframe requirements all 5 homes were built and transported to site within 12 weeks. Project management on site in Wiluna was critical to the overall success of the project and Modular WA engaged the services of an experienced and well equipped local contractor to ensure the onsite installation process was completed on time and to a very high standard of workmanship.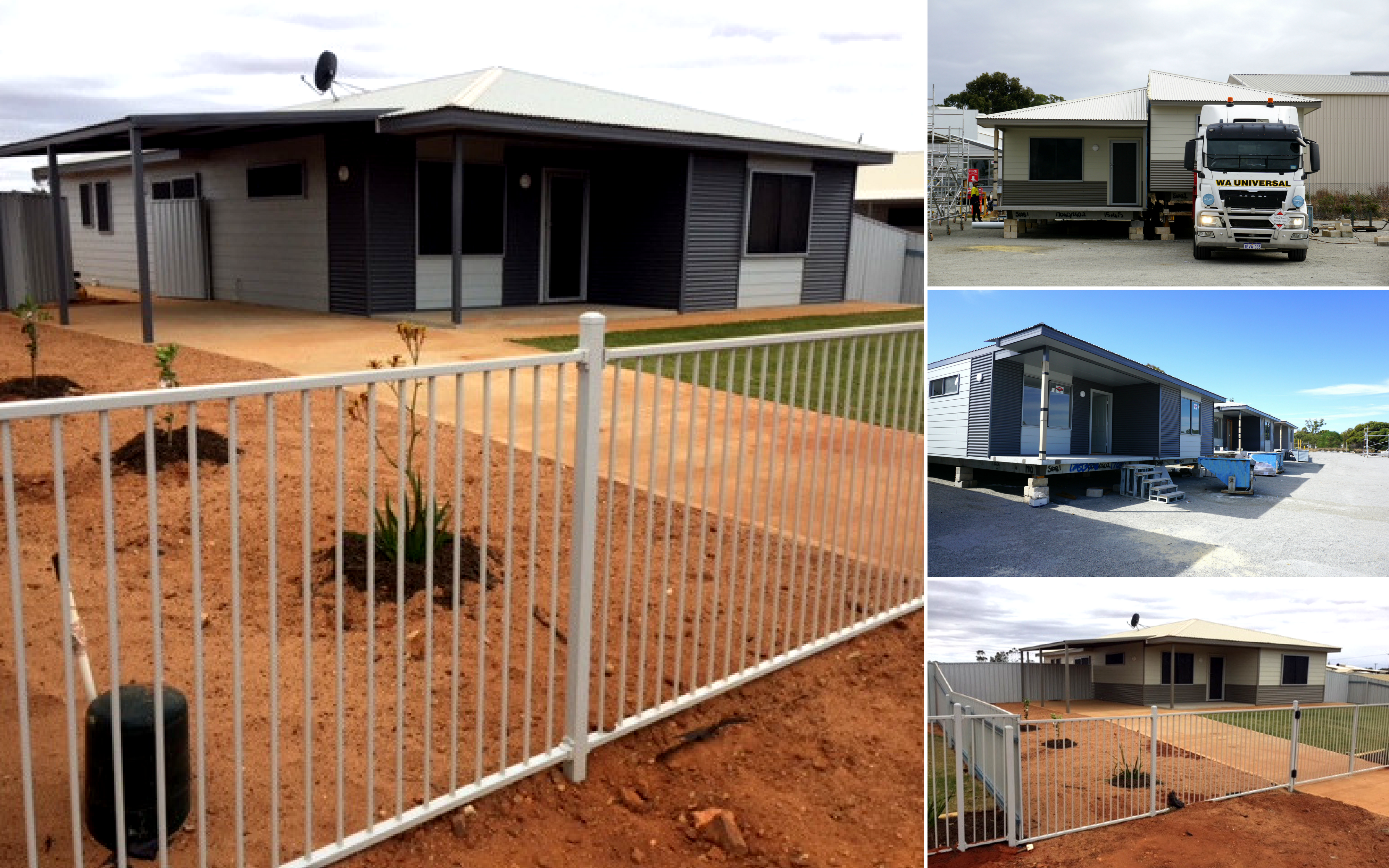 Australian Gas Infrastructure Group - Administration Office
| | |
| --- | --- |
| Client | Australian Gas Infrastructure Group (FKA. DBP) |
| Project | Administration Office |
| Location | Jandakot, Western Australia |
| Contract Period | February 2017 – July 2017 |
Overview:
Dampier Bunbury Pipeline (DBP) is the operator of the privately owned Dampier to Bunbury Natural Gas Pipeline, Western Australia's most important piece of energy infrastructure. Due to recent growth, the company required a new administration office to accommodate its expanding workforce.
Scope of Works:
Demolition of existing building, construct and installation of additional administration office building including transport, onsite earthworks, and module join up.
Features:
The office features an open plan space with raking ceiling encouraging a collaborative working environment. Additionally, the building contains three enclosed private offices with noise isolation batts, a purpose built utilities room and universal access facilitated entry.
Solutions:
Modular WA provided an economical solution by decommissioning the existing unit and replacing it with a larger purpose-built office. As the modules were constructed offsite and transported to Jandakot, this eliminated downtime for personnel and minimised disruption to surrounding buildings. Modular WA also liaised with Chubb Fire while wiring the smoke and fire alarm systems in order to ensure the building integrated effectively with existing infrastructure. The delivery of the DBP Administration Office project was on time and within budget, demonstrating Modular WA's ability to provide a quality commercial product tailored to each client's needs.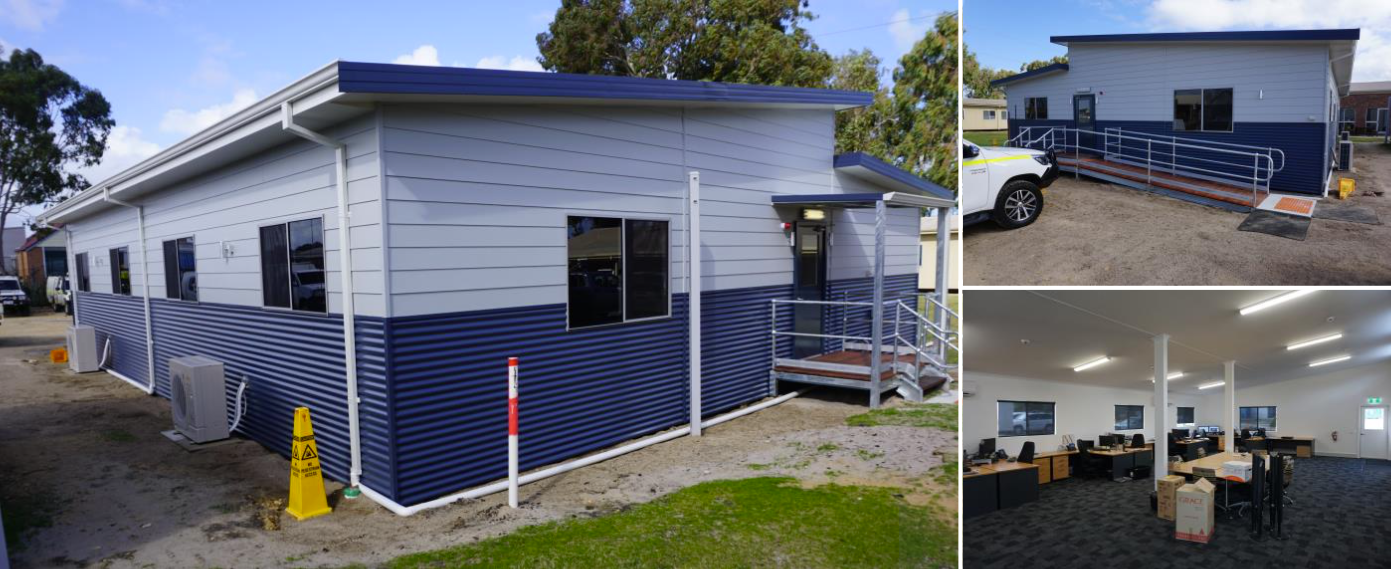 Margaret River Independent School - Modular Classrooms
| | |
| --- | --- |
| Client | Margaret River Independent School |
| Project | Modular Classrooms |
| Location | Margaret River, Western Australia |
| Contract Period | July 2018 – September 2018 |
Overview:
Margaret River Independent School awarded Modular WA the tender for the construction and installation of two modular classrooms to accommodate the school's growing student population.
Scope of Works:
Construct and install two modular classrooms for the Margaret River Independent school.
Includes transport of modules, onsite traffic management, cranage and site installation.
Features:
The classrooms were fully fitted out including features such as ceiling mounted projectors and white boards, with the external colour scheme matched to the existing school buildings to ensure seamless, harmonious integration.
Solutions:
This particular project was far more challenging than the typical modular install, with restricted access to the area and a particularly short site-access availability window of 1 week. Due to the position of the site, the buildings had to be reversed off Bussel Highway during the peak school holiday period and required a full traffic management plan. The trees surrounding the area and tight install space called for precise maneuvering of both the crane and building modules. Due to the limited timeframe the entire install and complexing process had to run extremely smoothly in order for us to achieve the client's strict handover deadline.